Overview
Adult acquired flatfoot
deformity (AAFD or AAF) is a progressive, symptomatic deformity resulting from gradual stretch of the posterior tibial tendon as well as other ligaments supporting the arch of the foot. AAFD develops after skeletal maturity, May also be referred to as posterior tibial tendon dysfunction (PTTD), although due to the complexity of the disorder AAFD is more appropriate. Significant ligamentous rupture occurs as the deformity progresses. Involved ligaments include the spring ligament, the superficial deltoid ligament, the plantar fascia, and the long and short plantar ligaments. Unilateral AAFD is more common than bilateral AAFD.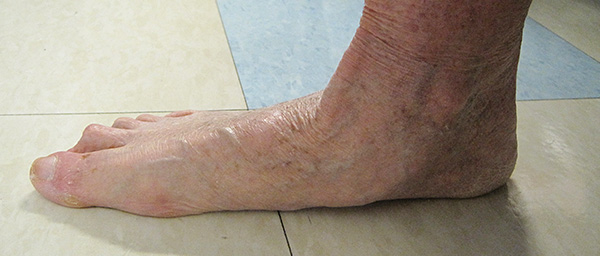 Causes
The most common cause of acquired adult flatfoot is posterior tibial tendon dysfunction. What causes adult acquired flat foot? Fracture or dislocation. Tendon laceration. Tarsal Coalition. Arthritis. Neuroarthropathy. Neurological weakness.
Symptoms
Not everyone with adult flatfoot has problems with pain. Those who do usually experience it around the ankle or in the heel. The pain is usually worse with activity, like walking or standing for extended periods. Sometimes, if the condition develops from arthritis in the foot, bony spurs along the top and side of the foot develop and make wearing shoes more painful. Diabetic patients need to watch for swelling or large lumps in the feet, as they may not notice any pain. They are also at higher risk for developing significant deformities from their flatfoot.
Diagnosis
There are four stages of adult-acquired flatfoot deformity (AAFD). The severity of the deformity determines your stage. For example, Stage I means there is a flatfoot position but without deformity. Pain and swelling from tendinitis is common in this stage. Stage II there is a change in the foot alignment. This means a deformity is starting to develop. The physician can still move the bones back into place manually (passively). Stage III adult-acquired flatfoot deformity (AAFD) tells us there is a fixed deformity. This means the ankle is stiff or rigid and doesn???t move beyond a neutral (midline) position. Stage IV is characterized by deformity in the foot and the ankle. The deformity may be flexible or fixed. The joints often show signs of degenerative joint disease (arthritis).
Non surgical Treatment
Flatfoot deformity can be treated conservatively or with surgical intervention depending on the severity of the condition. When people notice their arches flattening, they should immediately avoid non-supportive shoes such as flip-flops, sandals or thin-soled tennis shoes. Theses shoes will only worsen the flatfoot deformity and exacerbate arch pain. Next, custom orthotics are essential for people with collapsed arches. Over-the-counter insoles only provide cushion and padding to the arch, whereas custom orthotics are fabricated to specifically fit the patient?s foot and provide support in the arch where the posterior tibial tendon is unable to anymore. Use of custom orthotics in the early phases of flatfoot or PTTD can prevent worsening of symptoms and prevent further attenuation or injury to the posterior tibial tendon. In more severe cases of flatfoot deformity an ankle foot orthosis (AFO) such as a Ritchie brace is needed. This brace provides more support to the arch and hindfoot rather than an orthotic but can be bulky in normal shoegear. Additional treatment along with use of custom orthotics is use of non-steroidal anti-inflammatories (NSAIDS) such as Advil, Motrin, or Ibuprofen which can decrease inflammation to the posterior tibial tendon. If pain is severe, the patient may need to be placed in a below the knee air walker boot for several weeks which will allow the tendon to rest and heal, especially if a posterior tibial tendon tear is noted on MRI.
Surgical Treatment
If initial conservative therapy of posterior tibial tendon insufficiency fails, surgical treatment is considered. Operative treatment of stage 1 disease involves release of the tendon sheath, tenosynovectomy, debridement of the tendon with excision of flap tears, and repair of longitudinal tears. A short-leg walking cast is worn for 3 weeks postoperatively. Teasdall and Johnson reported complete relief of pain in 74% of 14 patients undergoing this treatment regimen for stage 1 disease. Surgical debridement of tenosynovitis in early stages is believed to possibly prevent progression of disease to later stages of dysfunction.